Call Us To Schedule Your Service Or Repair
CLEARVIEW CAR CARE

AUTO SERVICE AND REPAIR IN FREDERICK MD 21701
We Give You A CLEAR VIEW Of Your Car's Needs
Auto Repair Service for Cars and Light Trucks
Clearview Car Care service, repair and maintain most popular makes of vehicle including sedans, SUV's minivans and light trucks.
We are a family owned and operated, full-service Auto Repair Shop with two locations in Downtown Frederick. Just a short walk into the heart of our historic town.
Click to Call Us For Your Car Service or Auto Repair Monday to Friday:
john douglas
January 17, 2023
Great service. Will be using them in the future. Highly recommend.
Arturo Casiano
December 17, 2022
reat experience with the service, and the staff!
Kelsey Wetherald
November 2, 2022
I love these guys! Very fair pricing, transparent diagnostics, very responsive!
Tom Burke
October 13, 2022
These guys are reasonably-priced, honest, friendly, and fairly quick. And knowledgeable, to boot. They fixed a problem for me that no one had been able to solve. I've started taking my vehicle there as a first thought for unplanned maintenance issues. Ask them about the decepticon in their maintenance trench!
Lauren
September 29, 2022
Literally everyone I spoke to was kind. Shop works Quick, Efficient, and provided superb customer service. I will definitely make the drive and come back again if I experience any more car issues. Thank you!
Patrick Birney
September 27, 2022
Best around!
After 5 years of searching, I finally have a mechanic. The owner and his wife were so friendly and welcoming. The work on my car, quite a bit, was done well and my car is great, especially my brakes. It was done in great time too! The cost for the work was very fair. Clearview is just a great place and the only one I'll take my car to from here on.
Andrea Quinn
August 23, 2022
Just dropped off a friend but had an issue with my tire and they were able to help me out right away!
CLEARVIEW CAR CARE REPAIR WARRANTY
We offer a minimum of 12 months or 12,000 mile warranty on our auto repair work. We can do that because we're so confident in the car servicing work provided by our highly-trained technicians.
Don't just take our word for it.
We highly encourage you to read through our Testimonials and see what our customers have to say about us.

VEHICLE
DIAGNOSTICS
Diagnostic services have become a major part of car maintenance over recent years. And, here at Clearview Car Care we keep up to date with the latest technologies.

Sometimes, an unrecognizable warning light will come on and suddenly you get that sinking feeling in your chest.

Most of the time, there is absolutely nothing to worry about. It could simply be that your washer fluid is low or that your right rear tire needs topping up with air.

A simple glance at your owner's manual should give you the answer. But, if not, give us a call or drop by and we'll quickly plug in, diagnose and address the situation. Check out our page about Engine Diagnostics.

BRAKE SERVICE
BRAKE PAD REPLACEMENT
Apart from knowing that your car will start first time in the mornings, and run smoothly, it is more important that it will also stop when it needs to. Your safety, and the safety of others is most important.

If you feel or hear something slightly different than usual like a squeal or grinding when you apply your brakes, it is time to urgently have your brakes inspected and serviced.

Brakes need to be inspected regularly anyway, but sometimes they might get worn more rapidly than we expect because of possible increased mileage. If this is the case, give us a call at Clearview Car Care and we'll check them out quickly, whether it's brake pads, brake discs, brake linings or brake fluid, we'll get it done to give you peace of mind. Check out our page on Brakes Service.

WHEEL
ALIGNMENT
If you happen to drive down 270 anytime, you will notice how bad the road surfaces are. And if you use the Waze app on your cell phone for directions, you may hear it tell you "pothole ahead'. Probably more than once. Well, these potholes can cause your vehicle serious problems and make it difficult to keep a straight line. This happens when your wheels can go out of alignment.

Tell-tale signs that your wheels are out of alignment are: steering wheel vibration/judder (especially at certain speeds), unevenly worn tires, and/or your vehicle tending to drift one way or the other instead of keeping in a straight line.

Check out our YouTube video which explains the difference between wheel balancing and wheel alignment.

If you become aware of any of these issues, bring your car down to us, either at the South Wisner location or our North shop situated at 435 North Market Street, Frederick and let us get your car running straight and true. Take a look at our page on Wheel Alignment.


TIRE SALES
AND SERVICE
OK, so now that we have addressed the wheel alignment issue, let's make sure that there has not been too much damage to the tire surfaces.

As long as there is still some depth of rubber and tread, if there is visible uneven wear, we might simply need to balance the wheels and tires and rotate them. i.e. basically, swap them round to different positions on the car.

If there is too much damage or if you're ready to buy a new set of tires, we can take care of that too.

By the way, when it comes to price, you'll be surprised at how competitive we are with the specialist tire shops in the Frederick area. Our price is our price, there are no added this or added that. Check out our info about Tire Replacement.

OIL
CHANGE
Oil changes are something that needs to be done at regular intervals. Those intervals are determined either by the mileage the vehicle does or the amount of time that has elapsed since the last oil change.

Oil and oil filter changes are important because they help to preserve the engine and will help to keep it running smoothly, potentially, for years longer. Skipped oil changes, if left for too long, will have the opposite effect.

Ensure that you regularly check your oil level and note its color and clarity. In older vehicles, if you run low on oil, it could spell the end of the engine, and probably the car, without too much warning.

Don't wait till that little oil can light comes on while you're stuck on 270! Check out our YouTube page where Lisa shows you How To Check Your Oil! See info about oil changes Oil Change.

ENGINE TUNING / TUNE-UPS /
CAR MAINTENANCE
Car maintenance and/or engine tuning is something all cars need sooner or later. It's always best to have it done at regular intervals than to wait until there's an obvious problem..

Various aspects of an engine tune up or service are required at different intervals. Some, like oil change, are often at 3,000 miles, other things like spark plugs, can go on for years. Your vehicle's own specific hand-book will tell you what the recommended intervals are in your case.

If your car sounds different, feels different, or is now not starting on the first turn as it usually does, then don't wait until you find yourself waiting for a tow truck in Downtown Frederick with bags full of Christmas shopping and your grandma needing the bathroom.

A regular inspection of the spark plugs, fuel line, filters, brakes, steering, hoses etc., can prevent a much larger problem in the future.

Engine tuning is affordable. Don't add the cost of a tow truck and Enterprise car rental. See our Tune-Up page for what's involved Tune Up.
AUTHORIZED MARYLAND STATE SAFETY INSPECTION STATION
Both Clearview Car Care locations are Authorized Maryland State Vehicle Safety Inspection Stations.
The South Safety Inspection Station is located at:
102 S Wisner Street, Frederick MD 21701
The North Safety Inspection Station is located at:
435 N Market Street, Frederick MD 21701.
In Maryland, most used vehicles are required to undergo a vehicle safety inspection by an authorized State Inspection Station, prior to the sale or transfer of the vehicle. Clearview Car Care can carry out that inspection for you and verify its safety.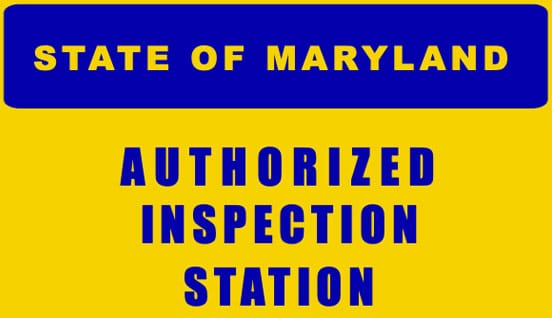 THINGS TO DO WHILE YOU WAIT FOR
AN OIL CHANGE, NEW TIRES OR ENGINE SERVICE AT CLEARVIEW CAR CARE… Take a sunny walk along Carroll Creek…
If you drop by for a minor repair, you can grab a coffee and relax in our comfortable waiting room. You may even find a fresh box of donuts there too.
Both our locations are literally a 5 to 10 minute walk from Downtown Frederick.
So, if you prefer, you can drop your car or truck off for service or repair and spend the time grabbing a coffee or a quick lunch at somewhere like Café Nola on East Patrick St, Wags on South Market or one of the Starbucks locations.
There are many places to eat where Patrick St and Market St cross.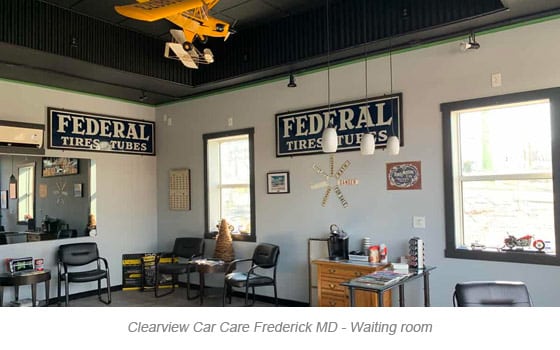 In Frederick town center, apart from the dozens of restaurants and bars, there are countless unique stores to browse.
Furniture stores, bookstores, jewelry stores, clothing stores, specialist tea and coffee stores, specialist oil and balsamic vinegar stores, you can buy handmade chocolates, visit hair and nail salons, barbers, you name it.
There are galleries and museums too. You'll have plenty to do while our team at either the South or North location take care of your car for you.
When it comes to your vehicle's auto repair needs, you won't be disappointed with the quality of our work and the professionalism available from the us at Clearview Car Care of Frederick, MD.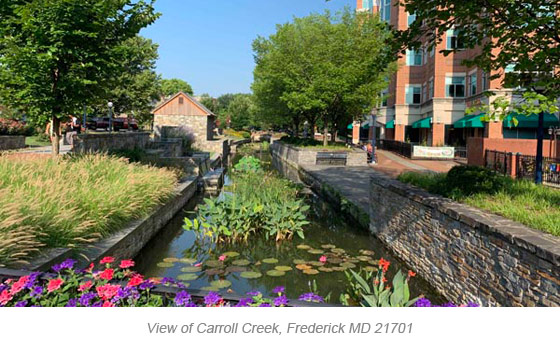 Spending a few hours shopping and dining in downtown Frederick, MD is an experience you won't forget. With over 200 specialty shops, galleries, and restaurants to choose from, you can find something for everyone. Whether you're looking for unique gifts or souvenirs, or just want to explore the local culture, Downtown Frederick has it all.
If you're looking for a great place to eat while exploring Downtown Frederick, there are plenty of options. From the Velvet Lounge Boutique to Relish Decor and Tasting Room, there's something for every taste. For a truly unique experience, head to Thatcher and Rye or Treaty General for some delicious food and drinks.
When it comes to shopping in Downtown Frederick, there are plenty of options as well. Everedy Square & Shab Row offers a variety of items from clothing and accessories to home decor and more. Firestone's Market on Market is another great spot with its selection of fresh produce and other grocery items. Juliet's Italian Market & Café is also worth checking out for its selection of Italian specialties.
No matter what your interests are, Downtown Frederick has something for everyone! Spend an afternoon exploring the many shops and restaurants this charming town has to offer – you won't be disappointed!

Sources: Visit Frederick Trip Advisor
AUTO SERVICE & REPAIR SPECIAL OFFERS
And, be sure to check out our Special Offers that can save you even more on the great auto repair work we do here at Clearview Car Care of Frederick, MD.
Please give us a call today to either set up an appointment or even if you just have questions. You can also send us a quick note (Click Here) to either request an appointment, make a comment or better yet, please send us a testimonial about what you thought of the auto repair work you received on your vehicle at Clearview Car Care.

The services we offer range from the fairly minor jobs such as an oil change to whatever your car needs.
AUTO SERVICE AND REPAIR IN FREDERICK MD 21701
CLEARVIEW CAR CARE
Auto Repair Service for Cars and Light Trucks, Frederick MD
Clearview Car Care is a full-service Vehicle auto repair shop with two locations in the heart of Frederick, Maryland 21701.
We service, repair and maintain most popular makes of vehicle including sedans, SUV's minivans and light trucks. We are a family owned and run auto repair shop with two locations in Downtown Frederick.
Click to Call Us For Your Car Service or Repair Monday to Friday:
Our Covid 19 Hygiene Procedures
Clearview Car Care has been deemed to be an essential business and can remain open. We use covers on car surfaces and observe strict sanitizing procedures. If necessary, we can collect your vehicle for repair or service and return it to you, disinfected.
Do you have a Domestic or Foreign Car or a Light Truck? We can take care of you right here in Frederick.